Fever Pitch: For the Die Hard Football Supporter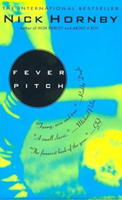 Fever Pitch is a critically and commercially successful football book that has opened the doors for a new style of sports writing since its launch in 1992. This book has given a huge recognition to Nick Hornby as one of the finest writers of his generation.
Nick Hornby is well known author of About a Boy and High Fidelity, for funny novels about being thirty something and not going anywhere fast. He is regarded as a fanatical soccer writer in Britain because of his Fever Pitch book which is considered to be an autobiography as well as a footballer Bible. In his book, Hornby says that 1968 was the year that turned his life upside down and this was the year when his parents separated, he turned 11 and went to watch an Arsenal game with his father.
Hornby's father has the feeling that Saturday afternoon games would be the one that would get the two people close together. But, to his amazement he found Hornby completely engrossed in the game and had no time to spare his dad for a conversation. In fact, girl friends also stood second for Hornby when he had to choose between them and one ball and eleven players. He fantasizes that even if his girlfriend was at the height of labor he would not be able to help her out till the final whistle is blown.
Fever Pitch has just a series of match reports that falls in three time frames of his life: childhood, adulthood and manhood. While viewing the May 2, 1972, Reading v. Arsenal game, it became embarrassingly apparent to the then 15-year-old that his white, suburban, lower-middle-class roots earned him a wimp without any sense of individuality: "Yorkshire men, Lancastrians, Scots, Irish people, blacks, the moneyed, the penniless, even Americans and Australians have something they could sit down in pubs and bars and cry about.