The Holocaust by Bullets: A Priest's Journey to Uncover the Truth Behind the Murder of 1.5 Million Jews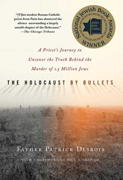 Great books about the extermination camps are legion, but less attention is given to the "front line" of the Holocaust: the Einsatzgruppen ("task forces"), the advance legions of mass-murderers who killed 1.5 million Jews in occupied Eastern Europe. Rather than the gas chambers and crematoria of the death camps, the vast majority of the Einsatzgruppen's victims were merely shot in plain sight not far from their own homes. All too often, their Ukrainian, Russian, and Polish neighbors offered varying degrees of complicity to the executioners.

Father Patrick Desbois has written a worthy new addition to the scant library of literature on the Einsatzgruppen. Lifelong curiosity over a painful chapter in his own family history led this French Catholic priest across Europe to the unlikely destination of post-Soviet Ukraine. There, Father Desbois and a hand-picked team of investigators moved from village to village, soliciting testimonials from elderly Ukrainians who witnessed (and were often recruited to participate in) the crimes of the Einsatzgruppen as children sixty years earlier.
Academically and emotionally, "Holocaust by Bullets" can't compare with the soul-wrenching experience that is Richard Rhodes's "Masters of Death," which I read last summer. But Father Desbois writes with a passion and admitted lack of academic objectivity that probably makes his account more accessible to more people. He also takes a stubbornly optimistic or at least hopeful view that is lacking in Rhodes's book. Readers solely interested in the atrocities themselves may grow impatient with Father Desbois's autobiographical account of his evolution from youthful secularist to adult Catholic, but the book is easily worth the abundance of awards it has earned since its publication last year.