Vietnam Air Losses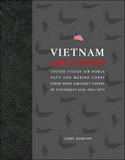 By Chris Hodson
Midland Publishing, 2001
289 pp., $29.95
ISBN 1857801156
Reviewed by Michael Peck
This book should be boring. Anytime a work is labeled as a chronology of aircraft losses, the sort of reference tome that says "Aircraft X crashed on Date Y at Location Z," it is usually a page-turner for the enthusiast and a snoozer for the rest of us.
So why is Vietnam Air Losses a surprisingly interesting look at the air war over Southeast Asia? Mainly because it reflects just how jumbled was the air war in Southeast Asia. Everything from armed propeller-driver trainers to Phantom jets flew the unfriendly skies in a frantic and jumbled mix of strategic bombing, interdiction and close air support. Campaigns were waged simultaneously over North Vietnam, Cambodia and Laos by the Air Force and Navy, who more or less ran their own separate air wars.
The author, a British librarian who displays his reference skills, provides a day-by-day chronology describing the circumstances of every United States Air Force, Navy and Marine Corps fixed-wing aircraft lost through combat or accident. The timeline begins in 1961, when the American presence in Vietnam was limited to advisors and a few transport and strike aircraft (the latter mostly being converted trainers and World War II bombers). In the early days, the U.S. lost an aircraft every other month. By 1967, when Operation Rolling Thunder was pounding North Vietnam with the heaviest aerial bombardment since World War II, the loss rate could reach ten planes per day.
Business as usual was the grim day of May 19, 1967, which saw: An Air Force A-1E Skyraider shot down over Laos by anti-aircraft fire (pilot killed), two Navy F-4B Phantoms and an A-6A Intruder from the carrier Kitty Hawk destroyed over North Vietnam by SA-2 surface-to-air missiles (aircrew taken prisoner), a Marine F-8E Crusader hit north of the Demilitarized Zone (pilot killed), another Navy F-8E and an F-8C brought down by missiles and gunfire in the North (pilots taken prisoner), and a Navy RA-5C Vigilante that was seen on fire during a photo run over Hanoi (aircrew died in captivity).
This is not a book that you read in the conventional sense, but it is interesting to peruse the pages and get a feel for the air war in Southeast Asia. Entries are neatly arranged by day, with each aircraft lost recorded. The descriptions of how each aircraft was lost are short but sufficient, with usually a paragraph or two summarizing the air combat and the fate of the pilot. Judging by the bibliography, the author appears to have obtained his information from painstakingly perusing about 500 books, articles and Web sites. The appendices include a breakdown of U.S. aircraft losses by aircraft type, year, and the reason for their demise. Also included are a roster of the pilot and crew names that appear in the book.
Unfortunately, as a reference book, Vietnam Air Losses is limited by a lack of footnotes, so readers who want to follow up on a particular air loss face the daunting task of guessing which of the 500 sources they should examine. No doubt the author cross-checked multiple sources, but it would have been immensely helpful to be pointed toward the right one. Also, while the book has a few background paragraphs on the air war in general, a few more pages would have been welcome, even if they just described the author's methodology.